Written by
Matan Tzuri, Yoav Zitun, Itay Blumenthal, Elior Levy, Moran Azulay
Code red sirens sounded in Ashdod and Lachish near Kiryat Gat in southern Israel Tuesday evening just after 9 p.m. An IDF Spokesperson confirmed that one rocket fired from Gaza had landed near Gan Yavne.
Tuesday's attack was the first time since last year's 50-day Operation Protective Edge in Gaza that a Grad rocket was fired into Israeli territory. It was initially unclear who was responsible for the rocket fire, but an IDF source said, "We hold Hamas responsible for everything that happens in the Strip."
---
Advertisement article continues below
The MAGA toy store is back! President Trump sends Hillary to jail - check out this limited edition toy
today!
Or maybe you want to
build the wall!
Be sure to check out
the biggest and best conservative store on the Internet!
---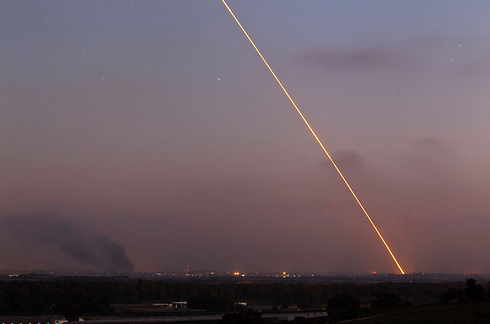 Photo: Reuters/Archive
Police said that there were no reports of injuries or damage sustained in the attack.
Hamas media outlets reported that the organization began evacuating all its security headquarters for fear of an Israeli reprisal to the attack. The evacuation was expected to continue into the morning hours.
The IDF confirmed the attack and that the rocket had landed in an open area, but said that it had not yet been found.
One resident in Lachish said, "There was a siren and we heard a big explosion." A woman in Be'er Tuvia however, just several kilometers from Gan Yavne and the site where the rocket reportedly struck said, "I didn't here any sirens, just a really loud explosion."
Another resident from Kibbutz Hatzor said, "We heard a really loud explosion, so loud that the walls of our house shook. It was really scary."
Zionist Union MK Omer Bar-Lev, a member of the Foreign Affairs and Defense Committee, recently warned that Hamas had resumed digging tunnels and that at least one may have already crossed the border into Israeli territory.
SOURCE: Ynet News
Viewpoints expressed herein are of the article's author(s), or of the person(s) or organization(s) quoted or linked therein, and do not necessarily represent those of The Olive Branch Report
Subscribe to my daily newsletter, and join hundreds of daily readers and receive news and relevant commentary
Don't forget to follow The Olive Branch Report on Facebook and Twitter.  Please help spread the word about us, share our articles on your favorite social networks.
If you value what you see on The Olive, please consider donating, any amount helps. We derive NO revenue from this site, and upkeep is expensive.

Since 2013, Christian news magazine The Olive Branch Report has featured the insightful writing and reporting of Greg Holt.  His writing has been featured on American Prophet, Conservative Firing Line, DC Clothesline, Godfather Politics, Capitol Hill Outsider, Sons of Liberty Media, Rev. Austin Miles, and others.  Greg is also the Publisher and Editor of Inspirational Christian Blogs.
Subscribe to my daily newsletter, and join hundreds of daily readers and receive news and relevant commentary
Follow The Olive on Facebook, Twitter, Pinterest, Social Cross and Gab